Shimla Manali Honeymoon
Shimla Kullu Manali Package from Bangalore
Duration : (7 Days / 6 Nights) | Type of Trip: Road Trip |
---
Destinations Covered : Shimla| Kufri | Manali | Rohtang Pass | Sissu (Lahaul Valley) | Solang Valley | Chandigarh
---
Overview of Shimla Kullu Manali Package from Bangalore
Shimla & Manali has been known as the Paradise of Romance for generations, and making your getaway with your special someone even more special is as easy as a phone call. Spice up your getaway with a flower bed decoration, honeymoon cake or bouquet of flowers.
Please call us directly on

9816684040 or 9418570800, we're happy to make your getaway to the Hills of Romance even more memorable.
We have specially designed a Shimla Kullu Manali Package from Bangalore for Honeymooners or those who are on family vacations. Experience the high life on this money can't buy package.

The
6 nights and 7 days tour itinerary of this beautifully crafted
Bangalore to Shimla Kullu Manali Package
includes sightseeing and a lot of leisure time for other activities.Starting from Chandigarh, the Shimla Kullu Manali Package from Bangalore includes private cab for transfers and sightseeing , meals as per itinerary. Some of the key attractions covered in this
Shimla Kullu Manali Package from Bangalore itinerary are Kufri, Shimla Local Sightseeing, Rohtang Pass and Solang Valley.
Besides sightseeing tours, this
Shimla Kullu Manali Package from Bangalore gives honeymoon couples a lot of privacy and absolutely romantic settings amidst the mighty Himalayan Ranges. Full of indulgence and romance, this
Shimla Kullu Manali Package
is the best honeymoon package for Manali and Shimla from Bangalore.
Flights for Shimla Kullu Manali from Bangalore
Indigo 6E-6512
is a direct flight from
Kempegowda International Airport,
Bangalore to
Chandigarh International Airport
.
Indigo 6E-6512
starts around 08:30 AM and reaches Chandigarh by 11:30 AM. Shimla is just 120 kms from Chandigarh and takes around 3 hours from Chandigarh. Another optional flight is
Go Air G8-513
from Bangalore
to
Chandigarh.
It starts around 07:05 AM and reaches Chandigarh by 11:35 AM.
Day 1:
Bangalore - Chandigarh - Shimla
Distance from Chandigarh to Shimla: 113 km | Travel Time: 3 hours 45 minutes
Meals : Dinner
Board your flight from Bangalore to start your journey with your loved one. On reaching Chandigarh our cab driver will pick you up from the airport and drive you towards Shimla.
Mountains with trees littered across them, hairpin roads and cool breeze, these things welcome you as soon as you enter Himachal near Parwanoo. Even the views on the roadside are so enchanting that you dare not take your eyes off of them, the curiosity seldom let you do so. With every turn you enter deep in mountains and the breeze become colder and colder and the roads become narrower. The feeling itself is great. It is polar opposite of what you feel when you travel in planes. If you are travelling for the first time on this route then you'll have this feeling of suspense and excitement of what might come next. When you get tired of travelling you can always stop by a 'Dhaba' and have a glass of hot tea. It makes you cozy and comfortable even on that wooden bench. And you'll feel the actual luxury of travelling. Imagine being with your significant other amidst nature and the best
Shimla Kullu Manali Honeymoon tour.
With this amazing feeling you'll enter Shimla. Beauty will increase with every passing second. And temperature will start to decrease. When you look around you could see the mountains of Shimla hill covered with lush green trees. Soon you'll reach
Shimla
and will be checking in the hotel.Spend your evening at the Mall Road.Overnight stay at the hotel.
Day 2:
Shimla sightseeing with Kufri
Meals : Breakfast + Dinner
On day 2 of your Itinerary you will go for the sightseeing in the most romantic hill station of North India.
Start your day with a tasty breakfast and then get ready to visit the major tourist attractions of Shimla, including Kufri, Himalayan Aviary, Jakhoo Temple, and Sankat Mochan Viewpoint.
If you enjoy walking, then you'll definitely love Shimla. As its main street is an east-west pedestrian called
'The Mall'
. Here, you find you'll find yourself in the middle of what looks like a traditional English town, with its little shops and larger buildings in Tudor, Victorian and Edwardian styles. It is an ideal spot for contemplating the sweeping views of the mountains and valleys. From here you'll find every spot picture perfect.
Ridge
is crowned by Christ Church. The stately yellow edifice features tall, arched stained- glass windows surrounded by fresco and inside, tablets commemorate British officers and citizen's of the colonial period. Then you'll see
Gaiety Theatre
. The whole time you'll be in Shimla you'll feel like you are travelling to and fro between modern India and vintage England, an amazing experience to have.
Head back for a quiet, intimate dinner and stay overnight at the hotel.
Day 3 : Shimla to Manali
Distance from Shimla to Manali: 280 kms | Travel Time: 8 - 9 Hours
Meals : Breakfast + Dinner
A
fter checking out from Shimla you'll move towards the next stop of voyage
"Mesmerizing Manali"
. The drive from Shimla to Manali is about 8-9 hours long. When you'll travel towards Manali from Shimla, you'll feel the temperature become warmer, but as soon as you'll cross Bilaspur and enter district Mandi you'll again feel the same cool breeze. Then the beautiful Beas river will accompany you. It'll be a magical experience, on one side you'll see the blue river flowing graciously and on the other side of the road will be the mountain covered with thick forest. On reaching Manali checkin to your exclusive accommodation located in the prime location, or near Mall Road.Having arrived in Manali, your evening is free for you to relax at your leisure. We recommend that you explore the nearby market which will keep you very busy and extremely happy. You can also try the impressive row of restaurants which will keep your grumbling stomachs quite happy.Night stay at hotel.
Day 4 :
Manali - Solang Valley - Sissu - Lahual Valley - Rohtang Pass
Meals : Breakfast + Dinner
Say good morning to another beautiful day of your honeymoon package in Manali. Begin it on a delicious note with a sumptuous breakfast and get ready for a full day tour of
Rohtang pass and Solang Valley
.
Rohtang pass is at elevation of 13,054 ft, Rohtang pass serves as a gateway to Lahaul and Spiti valleys in Himachal Pradesh. About 53 km from Manali, it connects Kullu valley with Lahaul and Spiti which in turn provide access to Leh.On return journey visit
Solang Valley, locally known as
Solang Nullah.
It is renowned as the preferred location for adventure activities in Himachal Pradesh. For those who love the rush of adrenaline; there is no place better than Solang in Kullu Valley to indulge in parachuting, paragliding, skating and zorbing. It is 8500 feet above mean sea level. Solang is not just about adventure activities. Its lush greenery, apple orchards, snowcapped peaks and lakes attracts lacs of visitors. Later return back to Manali.
Enjoy the sumptuous dinner with your other half and spend your night in Manali.
Full Day Bike Ride on Bullet 500 CC can also be arranged for Solang Valley from Manali.( Charges extra).
Please Note: National Green Tribunal( NGT ) is allowing only limited vehicle to Rohtang pass per day.
Rohtang pass trip is subject to availability of permit from the SDM Office Manali on the spot with additional cost.
Meals : Breakfast + Dinner
A delicious, multi-cuisine breakfast will be followed by a guided city tour of the hill station. The local sightseeing will be covered in around 4 hours. The pit stops will be the famous Hadimba Temple, Van Vihar Forest, Siyali Mahadev Temple, Vashisht Village, and Tibetan Monastery.
The excursion will then lead to local market exploration. You can roam around the streets and shop for souvenirs in the area.
The day will end with a healthy dose of dinner in your hotel's main restaurant.
Day 6 :
Manali to Chandigarh
Distance from Manali to Chandigarh: 310 kms | Travel Time: 8 - 9 Hours
In the morning check-out from hotel. Then the final part of the adventure will begin.
A drive back from Manali to Chandigarh, which in itself is very exciting.On your return journey you can
have fun Water Rafting in the cool white waters of Beas River (subject to operation- Cost not included).
While going back you'll see the beautiful locations again, and imprinting them into your memories. When you came everything was new , but now you will be going back with beautiful memories in your mind.
Day 7 :
Chandigarh Airport Drop
After breakfast check out from the hotel and we will drop you at the Airport. You can catch
Indigo 6E 491
flight which takes off at around 10:45 AM and from Chandigarh and reaches Bangalore at 01:40 PM. If you wish we can arrange half day local sightseeing tour of Chandigarh before you return back to Bangalore.
Get the Best Holidays Planned by Experts!
Shimla Manali Package from Bangalore Includes
Flower Bed decoration once during the stay.

Special Honeymoon Cake & Fruit Basket once during the stay.




1 Night stay at Chandigarh




2 Nights stay at Shimla.




3 Nights stay at Manali.




Complimentary breakfast.




Chandigarh,Shimla & Manali sightseeing as per itinerary.




All transfers & sightseeing by private Dzire/Toyota Etios/Innova.




All driver allowances,toll,parking & fuel charges etc.
---
Hotels
Location

Superior

Deluxe

Premium

Shimla

Chandigarh

Clarks Inn

We select accommodations that reflect the character of the destination. This could mean a handpicked Hotels with Best of the prices.


Hotels are subject to availability at the time of making reservation. In case of unavailability in mentioned hotels, alternate accommodation will be arranged in a similar category hotel.






Best Time to Visit Manali
Manali is a beautiful destination with plenty to offer for Honeymooners, but the climatic conditions make some part of the year win over the others. The best time to visit Manali is usually between the
summer and autumn months from May through October
, barring the monsoon season which arrive in July and August when rainfall perpetuates landslides. The summer months of May and June receive maximum tourist in Manali and is a great time for trekking/hiking, paragliding, mountain sports, rafting and zorbing.
If you like winter activities like
skiing and ice skating
, its best to come in the winters months between
November and February
, though the mountain air can be bone chilling at this time.
Here's a tip, to avoid the high season and yet get your share of the weather in Manali, the spring months of March and April are a good time visit too. The months after the monsoons between September and November are equally soothing with the town looking vibrant and colourful.
Shopping Areas in Manali
The Mall
is the main shopping area in Manali where you can buy local Kullu and Kinnauri shawls, rugs, caps and footwear, imported goods, besides a range of Tibetan handicraft items. Other shopping areas in the Mall are- Hong Kong Market, Thai Market, Tibetan Market, Dragon Shopping Complex, Lama Underground, Shangri La Shopping Complex, New NAC Market and Snow Lion Underground Market.
For local Handicrafts, The Himachal Handicrafts Emporium and Bhuticco weavers' co-operative in the main Manali Mall are good places to buy handcrafted shawls and rugs.
At the
Tibetan Bazaar
and Tibetan Carpet centre you can buy thangkas, rugs, local tweeds, Buddhist paintings, bamboo souvenirs, Chinese goods, silver and turquoise jewellery and prayers wheels amongst other things. Old Manali market is the best place if you are interested in buying Hippie and Junky Stuff.
Best Places to eat in Manali
Most of the restaurants in Manali serve Indian, Chinese and western dishes, while the relatively inexpensive dhabas near the bus stand are best for plain and simple, no frills hot meals. Old Manali is where you should head to if you are looking for fine dining options, best cafes and bars.Some of the best places to eat in Manali are
'The Zing Zing Bar & Restaurant', Chopsticks - Chinese, Mount View- Japanese, Satyam,
Raj Rasoi Restaurant is for its mouth-watering cuisines- Gujarati, South Indian, Punjabi, Jain, and Chinese.
Lazy Dog, Bob Dylan's, Shiva Cafe, Moon Dance, Johnson's Bar , German Bakery are also good places to eat.
Himachal Devi Darshan with Baijnath Shiv Temple
All Inclusive 6 Devi Darshan in Himachal Package with Baijnath Shiv Temple including visit to the famous Shaktipeeths- Naina Devi, Jwala Ji,Chintpurni Ji, Kangra Devi, Bagla Mukhi & Chamunda Devi for 3 Days / 2 Nights!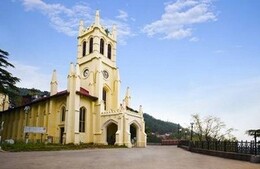 Shimla Kullu Manali from Mumbai
The 6 nights and 7 days tour itinerary of this beautifully crafted Mumbai to Shimla Manali Package includes sightseeing and a lot of leisure time for other activities.Starting from Chandigarh, the Mumbai to Shimla Manali Package includes private cab for transfers and sightseeing , meals as per itinerary.